Dublin Port Memory & Story Project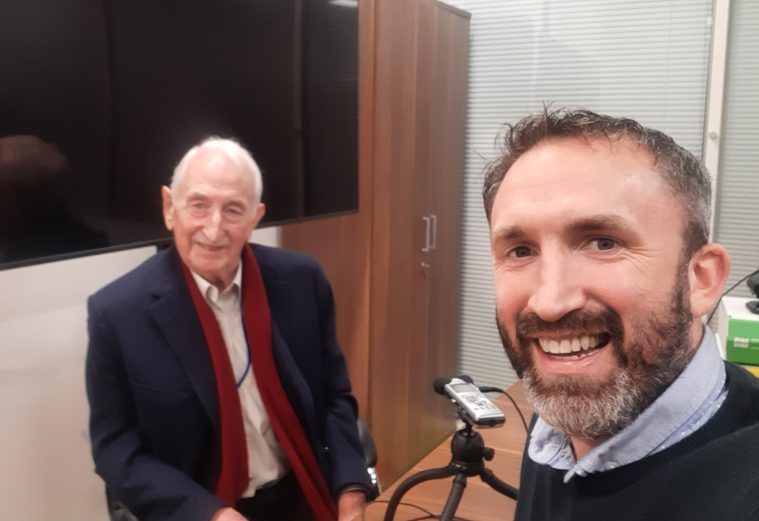 Dublin Port Company is actively looking for former employees to recall their time working at the Port for an oral history project.
The Dublin Port Memory and Story Project was established by Port Heritage Director, Lar Joye, with the aim of recording oral history interviews with current and former staff at Dublin Port, in order to capture a sense of the changing environment over the last decades, as well as inherited stories from previous generations of workers.
"Our archive can tell us so much about the organisation, but to really see how the port company and its predecessors functioned, you need to talk to the people who were there, who experienced it," explains Lar. "An oral history is a great way of complementing what you have in your archive and museum collections; it brings the history to life."
The project recognises that the individual stories, memories and experiences of staff make up an essential part of what is the history of Dublin Port. The project is being led by Dr Tomás Mac Conmara, one of the country's leading oral historians.
"A lot of work has taken place on the physical infrastructure and material artefacts from the heritage of Dublin Port but without the human stories behind all that, the history can feel quite dry," reflects Tomás, who believes that an oral history can bring the past to life in a way that is more personal and more easily digested.
"The intention of the project and what should be its outcome is that it will provide people with an insight and understanding of what Dublin Port is all about in a way that isn't available elsewhere in a conventional history," Tomás notes. "It's not a case of pitting forms of history against one another and there will be history enthusiasts who will engage whatever form of history is available, but if you are trying to expand the audience who will engage with the history of Dublin Port, then these human memories, stories and experiences are very relatable to people who have never read a history book. Listening to a former docker, an administrator or a tug master, relating their experiences of what working life was like in Dublin Port in the 1950s, '60s and '70s, offers far more potential to engage an audience."
Capturing Snippets of the Past
Capturing these stories from the people who were there is very important, particularly as many of the former workers are of advanced years now. "A lot of retired staff members from Dublin Port Company may have worked for the company for up to 40 years but their links go back much further to parents and grandparents, because the skill set tends to be very specialised," Lar explains.
Tomás believes that through the stories of the people who worked there, we can garner an "understanding of what Dublin Port meant, how it functioned, the different roles of employees, the social history that ran in parallel to the Port, particularly in the 20th century."
A number of digitally recorded, broadcast quality interviews were undertaken as part of the project so far, with former Port employees aged between 71 and 95. Follow-up field visits were undertaken to document and scan relevant photographs, in order to supplement the recordings. All interviewees were chosen because of their intimate connection with Dublin Port, through either their own direct employment or that of a close relative.
The work on the interviews dovetails beautifully with the archive material, according to Marta Lopez, Archive Researcher and Cataloguer, Dublin Port Company: "When you combine the stories with photos from the archive, it can open a door or a window to a past that has disappeared forever and really bring it to life. Their memories and stories help to make the archive collection more meaningful."
Volunteers Needed
Work on the project began in 2019 but its progress was curtailed due to the pandemic, and the organisers are keen to speak to more former Dublin Port employees about their time working with the company.
"The more people we can record, the more we can expand the number of voices who are contributing to the project, the more rounded the story becomes," Tomás reveals. "For any research project, particularly one with an oral history focus, it cannot just focus on one area or theme; you should try to be as rounded as you can in terms of the narrative you are trying to document, so we are reaching out very widely to people who have worked in Dublin Port over the last 50, 60 or 70 years, to document their experience."
Tomás emphasises that all interviews are carried out "in a very professional manner but also have a very relaxed, semi-structured approach. What that means is that we sit down and enable people to tell their stories in a relaxed environment. It's recorded, with their consent, and then made available to the public in an appropriate and ethical way. It's a very positive project for Dublin Port and the country generally in terms of furthering our understanding of what is a hugely significant entity in the economic life of the country."
Detailed interview reports (abstracts) are being created to frame the future navigation of each interview. The abstracts generate segment-level descriptive metadata corresponding to a time code that will orientate users through subjects they wish to explore. The intention is to, over time, make the material available to the public and for scholarship. In the shorter term, there are plans for a broad dissemination of the material including publication, online dissemination and public lectures.
The Stories So Far
The interviewees to date include Joseph Jones, who was born in Waterford in 1925, and worked as an electrician for the Liffey Dockyard Company for several decades, beginning in the 1940s. Among the subjects Joe spoke about were learning to swim at Bull Island in the 1930s, Ireland during World War II, working in the dockyard, post-war hunger in Europe and the need to adapt ships for the export of cattle, and ship-building in Dublin Port, including the building of the SS Isolda (which was infamously sunk by a German bomber in 1940). Joe sadly passed away on June 6, 2020, but his voice and story will forever be a part of Dublin Port's archive.
Paddy Daly began work as a docker in 1954 at the age of 16, having inherited his late father's 'button', which allowed him to provide for his family. At the age of 83, Paddy spoke about his family background, his childhood connections to the river, his early experience of working on the docks, the important lessons learned and chronicled the change he saw across decades of working at Dublin Port.
George Elliott spoke about his experiences at sea for many years from 1956 and his eventual work as a tug master in Dublin Port. Former engineer Christy O'Callaghan recalled doing an interview for a job in Dublin Port in 1967, immediately after wading through water to help with a mechanical problem on the docks. He got the job and went on to work for Dublin Port until 2001.
"We spoke to three people who used to work on the tugs, who are all aged 80 and worked on the boats for decades," notes Lar. "Their knowledge was amazing. It was powerful to hear them talk about it as a group, and they were able to identify aspects of the Port and people in old photographs that we couldn't identify.
Tomás notes the positive response the project has already received; "We have been very happy with the response we have gotten from various groups who have an interest in the Port. In particular, Declan Byrne and the Dublin Dockworkers Preservation Society have been very helpful in providing information and helping to identify interviewees etc."
While admitting that the term 'character' comes up quite a lot when talking to those who worked in the Port about the myriad larger-than-life personalities who peopled its ships and streets, Tomás insists that the work they carried out was vital.
"Behind the characters, the stories and all the joking, there is an enormous machine operating, with so many different parts that have to function for the entire organism to operate, an organism that was vital to the economy not just of Dublin but of Ireland," he muses. "It's a remarkable entity in the way that it has functioned and how it has evolved over the decades. And the people who worked there witnessed that change, whether it was technology, unionisation, the changing of work conditions, containerisation and how that impacted on the work experience of dockers; there is testimony to all that change and experience amongst the people who worked there."
"You're describing a place that was continuously changing, more so than other aspects of Irish society," concludes Lar, "and to capture that you need to talk to people to learn about their experiences."
Dublin Port Company would like to make contact with former employees to talk about their time working for the company. If you are interested
in becoming part of the Dublin Port Memory and Story Project, contact Lar Joye (email: ljoye@dublinport.ie or phone 01 8876000), Marta Lopez (email: mlopez@dublinport.ie or phone 01 8876000) or Tomás MacConmara on macconmaraheritage@gmail.com or 087 9160373.
Help us with the Archive
You can help us to preserve Dublin Port's rich archival heritage by
donating items or seek advice from us on items in your safekeeping.
Get in touch by completing the contact form below.
We'd love to hear from you!