Conservation Of Historical Graving Docks Papers From 1859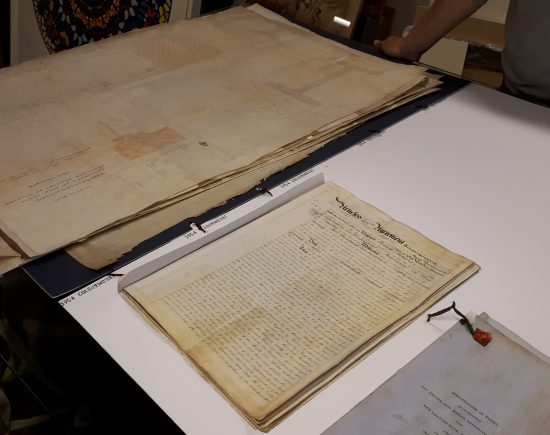 The Paper Conservation Studio has brought a set of historic port documents back to life.
The documents are of high historical significance for Irish Industrial Heritage and History. They are related to the construction of the port shipbuilding premises and consist of the project specifications for workshops and boiler engines, the handwritten contract, and architectural plans.
The Graving Dock No.1 was designed by port engineer George Halpin and completed under the supervision of his successor Bindon Blood Stoney. Both are illustrious characters in Irish engineering and their vision was essential for the development of Dublin Port.
Shipbuilding and repairing facilities were crucial to meet the demands of the modern world. Ship size dramatically increased in an unprecedented manner. By the 1850s, ships entering the port were around 200 to 300 tonnes. Ships only 150 years earlier, however, could only range from 20 to 70 tonnes.
 The documents were discovered by Dublin Port's Archive team in 2021 but were found to be damaged as they were folded together and attached with a wire. Pat MacBride of the Paper Conservation Studio explains how he carefully removed the wire to treat each document individually. The first stage of the conservation process was to clean the paper with soft abrasives like sponges and erasers. Cleaning was then completed by float washing. For a non-conservator, bathing papers may sound dubious, but it is one of the most effective treatments. Only experienced conservators like Pat, however, can attempt this process because it requires a deep understanding of paper, ink types, and composition.  
Once clean and dry, the conservators used Japanese-paper to repair weakened areas (tears, folds and holes). These pictures show the legal contract and drawing of the No. 1 Graving restored to their former fineness and appearance. 
You can view more of the uncovered Dublin Port Archives by clicking the 'Collections' button above.
Help us with the Archive
You can help us to preserve Dublin Port's rich archival heritage by
donating items or seek advice from us on items in your safekeeping.
Get in touch by completing the contact form below.
We'd love to hear from you!